Our Products
Oak Tree Simulations produces a family of business simulation games intended for teaching undergraduate, graduate and corporate learners effective business skills.
Micromatic is designed for use in both graduate and undergraduate Strategic Management courses. Micromatic allows players to experience the kinds of issues that are involved in managing a small manufacturing operation ($2 to $4 million in annual sales). The company sells its product in three sales regions, one of which can be either the European Union or China, thereby requiring players to manage exchange rate challenges. Players managing Micromatic must have a coordinated strategy that synchronizes their marketing, operations, and finance to achieve success. Each decision round requires players to make approximately 100 decisions.
Mogul CEO is targeted at introductory management courses. It simulates a small manufacturing company that produces two products sold through retail markets to the general public. The two products are not substitutes for one another, nor are they complementary. The company has the option to manufacture the products or to sub-contract their production to another company. Using Mogul players learn the basic interactions between the marketing, operations, and finance functions of a business without being overwhelmed by excessive detail. Each decision round requires players to make approximately 40 decisions.
Maven is targeted at introductory marketing courses. It simulates a small marketing company that sells up to two products in one, two, or three regions. Players focus on selling their products through retail markets to the general public; all manufacturing is sub-contracted to another company. The two products are not substitutes for one another, nor are they complementary. Through Maven players learn the challenges of applying the marketing concepts they are reading in their textbook (e.g., the 4 Ps of marketing) to a business enterprise. Each decision round requires players to make approximately 65 decisions, primarily in the marketing functional area.
Why use business simulations?
Research has shown that learning by doing drives greater rentention than other learning methods.
Students love simulations
Simulations develop critical thinking; learners dynamically experience the consequences of different management decisions and develop a general management vs. specialist functional view of business. They test their managerial skills in a safe environment, learn from their mistakes, and try again. Learners understand the impact of decisions made by departments on the entire organization and practice working as a management team, and develop team building skills. Simulations are engaging and exciting!
Instructors love simulations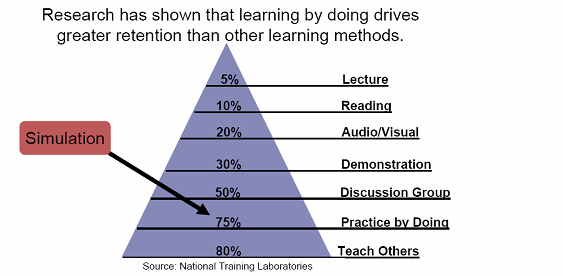 Simulations connect theoretical knowledge with the real world type application by injecting competition into the learning process. This introduces excitement to the classroom and stimulates the emotions and increases retention. Simulations help you to connect to students and have great potential for research. Simulations demonstrate the practice AACSB Assessment of Learning goals:
- develop critical thinking
- formulate business strategy
- manage group and individual dynamics in an organization
- evaluate financial position of a firm
Two In One: Team and Solo
Our simulations adapt to a wide variety of learning/training situations.
Team
In Team you will be part of a group that will manage your company. Your company will compete with other companies in the same marketplace that will be managed by other groups in your class. In Team, the administrator processes the decisions that teams make regarding the operation of their company after collecting the decisions from all the competing teams. After processing, the teams will make a new set of decisions based on the results of those just processed. Each decision-round represents three months of operations (i.e., one quarter of a year).
Solo
The Solo version of our simulations allows students/participants to learn on their own.Students/participants play the simulation against five semi-intelligent, computer-managed companies operating in the marketplace. While these competitors will act rationally, they are not all-knowing perfect competitors. There are no penalties -- just knowledge growth. The students decide when to process the decision round and can play as often as they like. Careful -- this can be addicting.